First of all, the following slideshows exhibit American "types of turquoise." Consequently, people can easily identify the origin of this turquoise by their distinct characteristics

.

With this in mind, I hope you find these (10) distinct examples helpful in identifying your own turquoise! In addition, we have another page that might help you identify your turquoise through our examples.
Bisbee Turquoise (Arizona) is famous for electric blue and chocolate brown matrix. As a matter of fact, it comes from the Lavender Pit, just east of Bisbee, Arizona
Carico Lake Turquoise (Nevada) is famous for varying shades of lime green to blue. Consequently, it originates from a pre-historic dry lake bed in Nevada.
Damele Turquoise – Variscite (Nevada) is famous for extensive matrix and "nodules" Uniquely, it's name comes from the Benny Damele Ranch.
Dry Creek Turquoise (Nevada) has a "washed out" light blue color. Also, it comes from Nevada.
Kingman Turquoise (Arizona) is famous for over 30 colors. Additionally, it comes from Kingman, Arizona.
Lone Mountain Turquoise is famous for black flowing matrix lines. In addition, it comes from Nevada.
Morenci
Turquoise is famous for pyrite inclusions. Moreover, pyrite looks like gold, but polishes to a silver color. In like manner, Morenci comes from Morenci, Arizona.
Number 8 Turquoise is famous for extensive tan matrix. Likewise, it is from the state of Nevada.
Royston Turquoise is famous for it's olive green. Consequently, it comes in green and brown combinations.
Sleeping Beauty Turquoise (Arizona) is famous for both the black vivid matrix. Ironically, it comes with a brown or tan matrix, which the mine owners actually stain black. Also, they may cut the stone to show the solid robin's egg blue color
Equally important, we sell turquoise through our secure websites: Real Turquoise.com & BlueBisbeeTurquoise.com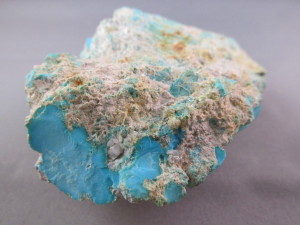 Types of Turquoise 1990 – 2023 © Schannep Ventures L.L.C. ALL RIGHTS RESERVED